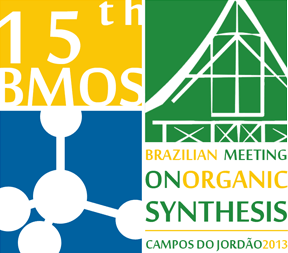 Site do evento
Comissão organizadora
Alcindo A. Dos Santos
Fernando Antonio Santos Coelho
Rodrigo Octavio Mendonça Alves de Souza
Cristiano Raminelli
Giovanni Wilson Amarante
Você participou do Comitê Organizador desse evento?
Clique aqui.
Dezembro 2013 vol. 1 num. 2
Brazilian Meeting on Organic Synthesis 2013
About and Introduction
Keynote
Young Talents
Abstracts
The organizing committee of the 15th Brazilian Meeting on Organic Synthesis wish to invite you to take part in this exciting meeting which will bring together the Brazilian Organic Synthesis community, distinguished lecturers and colleagues from all over the world to discuss the most modern aspects of the art of organic synthesis. The conference will be held at Campos do Jordão from november 10th to november 13th.
Patrocinadores
Comitê Organizador
Prof. Dr. Alcindo A. Dos Santos (General Secretary – USP)
Prof. Dr. Fernando Antonio Santos Coelho (UNICAMP)
Prof. Dr. Rodrigo Octavio Mendonça Alves de Souza (UFRJ)
Prof. Dr. Cristiano Raminelli (UNIFESP)
Prof. Dr. Giovanni Wilson Amarante (UFJF)
Comitê Científico
Prof. Dr. Antônio Luiz Braga - DQ/UFSM - Brazil
Prof. Dr. Antonio Carlos B. Burtoloso - IQSC – USP - Brazil
Prof. Dr. João Valdir Comasseto - IQ/USP - Brazil
Prof. Dr. Carlos Roque Duarte Correa - IQ/UNICAMP - Brazil
Profa. Dra. Arlene G. Corrêa – IQ/UFSCar - Brazil
Prof. Dr. Silvio do Desterro Cunha - IQ/UFBA – Brazil
Prof. Dr. Luiz Carlos Dias - IQ/UNICAMP - Brazil
Prof. Dr. Vitor Ferreira - DQ/UFF - Brazil
Prof. Dr. Diogo Ludtke – IQ/UFRGS
Prof. Dr. Gary Molander - University of Pennsylvania, Philadelphia - USA
Prof. Dr. Ronaldo A. Pilli - IQ/UNICAMP - Brazil
Prof. Dr. Paulo Henrique Menezes da Silva - DQF/UFPE - Brazil
Prof. Dr. Marcus Mandolesi Sá – DQ/UFSC - Brazil
Prof. Dr. Ludger Wessjohann - Halle - Germany