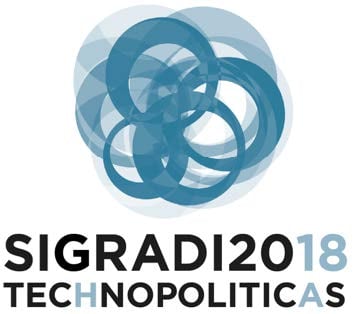 XXII SIGraDi
November 07-09, 2018
Instituto de Arquitetura e Urbanismo
Universidade de São Paulo
São Carlos
Brazil

Local organizing committee
David M. Sperling (Chair)
Simone Vizioli (co-Chair)
Paulo C. Castral
Ruy Sardinha Lopes
Márcio Minto Fabricio
Luciano B. da Costa

International Executive Committee
Rodrigo Martin-Iglesias (Argentina), President
Maria Elena Tosello (Argentina), Administrative Vice President
Gonçalo Castro Henriques (Brazil), Vice President for InternationalRelations
Pablo C. Herrera (Perú), Treasurer
Miguel Roco (Chile), General Secretary

Coordinators
Frederico Braída (Brazil)
Fernando García Amen (Uruguay)
Paula Gómez (Chile)
Bruno Perelli (Chile)
Simone Vizolli (Brazil)

Advisory Committee
Marcelo Bernal (Chile)
Leonardo Parra (Colombia)
Underleia Bruscato (Brazil)



Site do evento
Comissão organizadora
Você participou do Comitê Organizador desse evento?
Clique aqui.
Novembro 2018 vol. 5 num. 1
XXII CONGRESSO INTERNACIONAL DA SOCIEDADE IBEROAMERICANA DE GRÁFICA DIGITAL
[00] - Presentations
[00] - Apresentações
Articles
Artigos
[01] Theories and design practices in digital contexts
[01] Teorias e práticas de projeto em contextos digitais
[02] Morphogenesis, synthesis and analysis of forms
[02] Morfogênese, síntese e análise das formas
[03] Manufacture and digital construction
[03] Fabricação e construção digital
[04] Information, models and simulations
[04] Informação, modelos e simulações
[05] Interfaces and devices
[05] Interfaces e dispositivos
[06] Teaching, research and extension in digital contexts
[06] Ensino, pesquisa e extensão em contextos digitais
[07] Creative industries and artistic practices
[07] Indústrias criativas e práticas artísticas
[08] Digital technologies and society
[08] Tecnologias digitais e sociedade
The Iberoamerican Society of Digital Graphics (SIGraDi) is a non-profit association that brings together architects, urban planners, designers and artists linked to digital media. Its main goals are to contribute to the academic debate on digital media and their applications, to promote the production and advancement of scientific knowledge in general, and also to stimulate research and education in the current context of major technological change.
The 22nd Congress of SIGraDi takes on the theme of "Technopolitics". It is understood that all technology is generated within cultural, economic and social fabrics, as well as has political aspects in its conformation and its use. However, it is not uncommon for technologies to be autonomously thought of as prefigurers of futures and unequivocal solutions to problems not yet known.
In a world facing different crises and challenges, from social to political, from urban to environmental, from imagined spaces to constructed ones, Technopolitics are understood as practices of conception, revision and use of technological artifacts that operate as common goods, and may counteract the dominant models of technological application.
Considering these premises and the intensive presence of digital and hybrid technologies in daily life, Technopolitics has been developed and directed to the propositional and critical composition of a "common world": urban life, access and sharing of information and ways of doing, the forms of citizen participation and self-management, decision-making processes, the design and production of cities, and the enhancement of creative practices, among others.
The focus on digital technologies and their uses in architecture, design, arts and the like, according to the proposed approach – and based on the specificities and history of SIGraDi – intends to broaden the debate under way in these areas.
Local organizing committee
David M. Sperling (Chair)
Simone Vizioli (co-Chair)
Paulo C. Castral
Ruy Sardinha Lopes
Márcio Minto Fabricio
Luciano B. da Costa
Team
Amanda Sobiesky
Ana Carolina Martins Dias Felizardo
Ana Luiza Rodrigues Gambardella
Aníbal Santos Pereira Jr.
Anna Laura Rossi
Dyego da Silva Digiandomenico
Evandro Cesar Bueno
Fernanda Ferrari
Flávia Cavalcanti Macambyra
Gabriel Braulio Botasso
Gabriele do Rosário Landim
Geovana Rodrigues Duarte
Jeziel Matos
José Eduardo Zanardi
José Renato Dibo
Juliano Pita
Mariah Di Stasi
Mariane Cardoso de Santana
Mateus Segnini Tiberti
Maurício José Silva Filho
Miranda Zamberlan Nedel
Nayara Araujo Benatti
Nícolas Pereira Alves
Odinei Carlos Canevarollo
Paula Ramos Pacheco
Paulo Wanderley Pratavieira
Rodolfo Silva Martins
Rodrigo Scheeren
Sandra Soster
Tássia Borges Vasconselos
Tatiana de Oliveira Chiletto
Thematic sessions directors
[01] Theories and design practices in digital contexts
Pablo C. Herrera (Peru) and Underléa Bruscato (Brazil)
[02] Morphogenesis, synthesis and analysis of forms
Marcelo Bernal (Chile) and Wilson Florio (Brazil)
[03] Manufacture and digital construction
Fernando García Amen (Uruguay), Gonçalo Castro Henriques (Brazil) and MauroChiarella (Argentina)
[04] Information, models and simulations
Frederico Braida (Brazil) and Miguel Roco Ibaceta (Chile)
[05] Interfaces and devices
Anja Pratschke (Brazil) and Paula Gómez (Chile)
[06] Teaching, research and extension in digital context
Márcio Minto Fabrício (Brazil) and Rodrigo Martin-Iglesias (Argentina)
[07] Creative industries and artistic practices
Mari Tosello (Argentina) and Mateus Stralen (Brazil)
[08] Digital technologies and society
Leonardo Parra Agudelo (Colombia) and Ruy Sardinha Lopes (Brazil)
Scientific committee
Adolfo San Filippo – Universidad Nacional de Rosario –Argentina
Adriana Granero – Universidad de Buenos Aires – Argentina
Adriane Borda Almeida da Silva – Universidade Federal de Pelotas – Brazil
Affonso Orciuoli – Universitat Internacional de Catalunya – Spain
Alberto Fernández González – Universidad de Chile – Chile
Alberto T. Estévez – Universitat Internacional de Catalunya – Spain
Alejandro Folga – Universidad de la Republica – Uruguay
Alessandra Teribele – Universidade do Vale do Rio dos Sinos – Brazil
Alexandra Paio – Instituto Universitário de Lisboa – Portugal
Alexis Méndez González – Universidad Tecnológica de La Habana – Spain
Alfredo Pina Calafi – Universidad Publica de Navarra – Spain
Alfredo Stipech – Universidad Nacional del Litoral – Argentina
Altug Kasali – Izmir University of Economics – Turkey
Alvaro Bonfiglio Bardier – New York University & Universidad de laRepublica – Uruguay
Ana Baltazar – Universidade Federal de Minas Gerais – Brazil
Ana Regina Cuperschmid – Universidade de Campinas – Brazil
Ana Tagliari – Universidade Estadual de Campinas – Brazil
Analia Fernandez – Universidad de Buenos Aires – Argentina
Andrea Adami – Politecnico di Milano– Italy
Andrea de Monte – Universidad Nacional de Santa Fe – Argentina
Andréa Mussi – Faculdade Meridional – Brazil
Andres Cavieres – University of Oklahoma – United States
Andrés Martín-Pastor – Universidad de Sevilla – Spain
Andres Passaro – Universidade Federal do Rio de Janeiro – Brazil
Andressa Carmo Pena Martinez – Universidade Federal de Viçosa – Brazil
Anja Pratschke – Universidade de São Paulo – Brazil
Arivaldo Amorim – Universidade Federal da Bahia – Brazil
Armando Carlos Pina Filho – Universidade Federal do Rio de Janeiro – Brazil
Arthur Lara – Universidade de São Paulo – Brazil
Athanassios Economou – Georgia Institute of Technology – United States
Carlos Nome – Universidade Federal da Paraíba – Brazil
Carlos Verzola Vaz – Universidade Federal de Santa Catarina – Brazil
Carolina do Nascimento – Universidade Federal do Oeste da Bahia – Brazil
Celso Guimarães – Universidade Federal do Rio de Janeiro – Brazil
Charles Vincent – Universidade Presbiteriana Mackenzie – Brazil
Clarissa Freitas – Universidade Federal do Ceará – Brazil
Claudio Araneda Gutiérrez – Universidad del Bío-Bío – Chile
Cristiano Rodrigues – Universidade Federal de Minas Gerais – Brazil
Cristina Voto – Universidad de Buenos Aires $ Universidad Nacional Tres de Febrero– Argentina
Daniel Cardoso – Universidade Federal do Ceará – Brazil
Daniel Freitas – Universidade Federal de Minas Gerais – Brazil
Danny Lobos Calquin – Bau&Haus Digital Architecture – Chile
David Andrés Torreblanca Díaz – Universidad Pontificia Bolivariana – ColombiaDavid Díaz – Universidade Federal do Oeste da Bahia – Brazil
David Sperling – Universidade de São Paulo – Brazil
David Viana – Instituto Universitário de Lisboa – Portugal
Denise Mônaco dos Santos – Universidade Federal de Viçosa – Brazil
Diana Rodrigues Barros – Universidad Nacional de Mar del Plata – Argentina
Diogo Carvalho – Pontifícia Universidade Católica de Minas Gerais – Brazil
Doris Kosinsky – Universidade Federal do Rio de Janeiro – Brazil
Eduardo Cardoso – Universidade Federal do Rio Grande do Sul – Brazil
Eduardo Hamuy – Universidad de Chile – Chile
Eduardo Nardelli – Universidade Presbiteriana Mackenzie – Brazil
Eloisa Kempter – Universidade Estadual de Campinas – Brazil
Elza Miyasaka – Universidade de São Paulo & Universidade de Viçosa – Brazil
Érica Checcucci – Universidade Federal da Bahia – Brazil
Erica Mattos – Universidade Federal de Minas Gerais – Brazil
Erivelton as Silva – Instituto Federal do Rio de Janeiro – Brazil
Felipe Heidrich – Universidade Federal de Pelotas – Brazil
Felipe Tavares da Silva – Universidade Federal da Bahia – Brazil
Félix Felixalx – Universidade de Brasília – Brazil
Fernando García Amen – Universidad de la República – Uruguay
Fernando Lima – Universidade Federal de Juiz de Fora – Brazil
Fernando Meneses-Carlos – Universidad Internacional de Cataluña – Mexico
Francisco Calvo – Universidad Técnica Federico Santa Maria – Chile
Frederico Braida – Universidade Federal de Juiz de Fora – Brazil
Gabriela Celani – Universidade Estadual de Campinas – Brazil
Gilberto Pereira – Universidade Federal da Bahia – Brazil
Gilfranco Alves – Universidade Federal de Mato Grosso do Sul – Brazil
Gonçalo Henriques – Universidade Federal Rio de Janeiro – Brazil
Guilherme de Vasconcelos – Universidade Federal de Minas Gerais – Brazil
Gulen Cagdas – Istanbul Technical University Faculty of Architecture – Turkey
Henri Achten – Czech Technical University in Prague – Czech Republic
Henrique Gazzola – Universidade Federal de Minas Gerais – Brazil
Jane Espina Bermudez – Universidade del Zulia – Venezuela
Janice Pires – Universidade Federal de Pelotas – Brazil
Jarryer de Martino – Universidade Federal do Espírito Santo – Brazil
José Beirão –Universidade de Lisboa – Portugal
José Cabral Filho – Escola de Arquitetura da Universidade Federal de MinasGerais – Brazil
Jose Kós – Universidade Federal de Santa Catarina & Universidade Federal doRio de Janeiro – Brazil
José Pedro Sousa – Universidade do Porto – Portugal
Joshua Vermillion – University of Nevada – United States
Joubert Lancha – Universidade de São Paulo – Brazil
Juan Guillén Salas – Universidade de Brasília – Brazil
Juarez Franco – Universidade Federal Rural do Rio de Janeiro – Brazil
Julio Pedrassoli – Universidade Federal da Bahia – Brazil
Leonardo Parra-Agudelo – Universidad de los Andes – Colombia
Leticia Mendes – Universidade Federal de Pernambuco – Brazil
Lucas Bambozzi –Universidade de São Paulo – Brazil
Lucas Figueiredo Baisch – Universidade Salvador – Brazil
Luciana Colombo – Universidade Federal do Rio Grande do Sul – Brazil
Luciana Swarwosky – Universidade Federal de Santa Maria – Brazil
Luciano Caixeta – Universidade de Brasília & Pontifícia UniversidadeCatólica de Goiás – Brazil
Luis Gustavo Costa – Universidade de Salvador – Brazil
Manoel Alves –Universidade de São Paulo – Brazil
Manuela Taboada – Queensland University of Technology – Australia
Mara Capone – University of Naples Federico II – Italy
Marcel Fantin – Universidade de São Paulo – Brazil
Marcela Almeida – Universidade Federal de São João del-Rei – Brazil
Marcela Arancibia Berrios – Universidad de las Américas – Chile
Marcela Lopes – Universidade Federal de Minas Gerais – Brazil
Marcelo Bernal – Universidad Tecnica Federico Santa Maria – Chile
Marcelo Giacaglia – Universidade de São Paulo – Brazil
Marcelo Maia – Universidade de São Paulo – Brazil
Marcelo Tramontano – Universidade de São Paulo – Brazil
Marcio Fabricio – Universidade de São Paulo – Brazil
Marco Hemmerling – University of Applied Sciences – Germany
María Tosello – Universidad Nacional del Litoral – Argentina
Marwan Halabi – Beirut Arab University – Lebanon
Mateus van Stralen – Universidade Federal de Minas Gerais – Brazil
Mauricio Lovola – Universidad de Chile – Chile
Mauro Chiarella – Universidad Nacional del Litoral – Argentina
Mauro Couceiro – Barcelona Universitat Internacional de Catalunya &Universidade de Coimbra – Spain
Maximiliano Velazquez – Universidad de Buenos Aires – Argentina
Maycon Sedrez – Technische Universität Braunschweig – Germany
Michele Calvano – Department of Architecture and Design (DAD), Polytechnic ofTurin – Italy
Miguel Roco Ibaceta – Universidad de Concepción – Chile
Monica Pujol Romero – Universidad de Buenos Aires – Argentina
Monica Tavares – Universidade de São Paulo – Brazil
Monika Stumpp – Universidade Federal do Rio Grande do Sul – Brazil
Myrsini Mamoli – Louisiana State University – United States
Natacha Rena – Universidade Federal de Minas Gerais – Brazil
Natalie Groetelaars – Universidade Federal da Bahia – Brazil
Naylor Vilas Boas – Universidade Federal do Rio de Janeiro – Brazil
Nieri Araujo – Universidade Presbiteriana Mackenzie – Brazil
Orkan Güzelci – Istanbul Kultur University – Turkey
Pablo Herrera – Universidad Peruana de Ciencias Aplicadas – Peru
Patricia Muños – Universidad Buenos Aires – Argentina
Patrícia Porto Carreiro – Universidade Federal de Pernambuco – Brazil
Paula Gomez – Georgia Institute of Technology – United States
Paulo Fonseca de Campos – Universidade de São Paulo – Brazil
Paulo Pereyra Bonifacio – Universidad de la República – Uruguay
Pedro Januário – Universidade de Lisboa – Portugal
Pedro Soza – Universidad de Chile & Georgia Institute of Technology – Chile
Pedro Veloso – Carnegie Mellon University – Brazil
Rafael Lemieszek Pinheiro – Universidade Federal de Minas Gerais – Brazil
Ramón Galviz Centurión – Universidad Francisco de Paula Santander – Colombia
Regiane Pupo – Universidade Federal de Santa Catarina – Brazil
Regina Ruschel – Universidade Estadual de Campinas – Brazil
Reza Amindarbari – Singapore University of Technology and Design – UnitedStates
Ricardo Sosa – Monash University & Auckland University of Technology –Australia
Robson Canuto da Silva – Universidade Federal do Pernambuco – Brazil
Rodrigo Garcia Alvarado – Universidad del Bío-Bío – Chile
Rodrigo Martin Iglesias – Universidad de Buenos Aire – Argentina
Rodrigo Paraizo – Universidade Federal do Rio de Janeiro – Brazil
Rodrigo Scheeren – Universidade de São Paulo – Brazil
Rosa Mendonza Robles – Universidad de Sonora – Mexico
Ruy Lopes – Universidade de São Paulo – Brazil
Sandra Pantaleão – Universidade Estadual de Goiás & Pontifícia UniversidadeCatólica de Goiás – Brazil
Sandro de Abreu – Universidade Federal de Minas Gerais – Brazil
Sara Boccolini – Instituto Nacional de Tecnología Agropecuaria – Argentina
Sara Eloy – Instituto Universitário de Lisboa – Portugal
Sema Alaçam – Istanbul Technical University – Turkey
Silvia Hernández – Universidad Nacional de Córdoba – Argentina
Simone Garagnani – University of Bologna – Italy
Simone Vizioli – Universidade de São Paulo – Brazil
Subhajit Das – University of Pennsylvania – United States
Tássia Borges de Vasconselos – Universidade de São Paulo – Brazil
Underléa Bruscato – Universidade Federal do Rio Grande do Sul – Brazil
Veronica Natividade – Pontifícia Universidade Católica do Rio de Janeiro –Brazil
Werner Lonsing – Independent Researcher– Germany
Wilson Florio – Universidade Presbiteriana Mackenzie – Brazil
Yongheng Hu – Shanghai Jiaotong University- China
PhD workshop committee
Gabriela Celani – Universidade de Campinas – Brazil(president)
Ana Cuperschmid – Universidade Estadual de Campinas – Brazil
Frederico Braida – Universidade Federal de Juiz de Fora – Brazil
Rodrigo Martin-Iglesias – Universidad de Buenos Aires – Argentina
Simone Vizioli – Universidade de São Paulo – Brazil