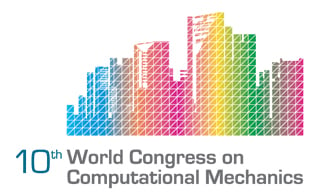 Site do evento
Comissão organizadora
Paulo M. Pimenta
Philippe Devloo
Miguel L. Bucalem
Eduardo M.B. Campello
José R. Cardoso
Cecília Fairbanks
Luiz Augusto Petrus Levy
Ruy M.O. Pauletti
Dimas B. Ribeiro
Você participou do Comitê Organizador desse evento?
Clique aqui.
Maio 2014 vol. 1 num. 1
Idioma principal | Segundo idioma
10th World Congress on Computational Mechanics
About the Congress
The 10th WORLD CONGRESS ON COMPUTATIONAL MECHANICS (WCCM 2012) took place in the vibrant city of São Paulo, Brazil, 8 -13 July 2012. This tenth edition was an opportunity to meet distinguished colleagues, have a fruitful exchange of ideas and also feel the Brazilians' reputation as a warm and friendly people. With over 1800 quality papers from 92 different countries, we are sure that it was an outstanding, enjoyable and memorable congress. We wish to express our gratitude to all participants for the high quality of their contributions, to the plenary and semi-plenary lecturers for the high motivating presentations, to the sponsors for their generous support, to the local organizing committee for its wonderful managing effort and to the people from SOMA for its splendid assistance before, during and after the congress. Thank you for the success of our congress.
Chairman
Paulo M. Pimenta (USP)
Vice-Chairman
Philippe Devloo (UNICAMP)
Local Organizing Committee
Miguel L. Bucalem
Eduardo M.B. Campello
José R. Cardoso
Cecília Fairbanks
Luiz Augusto Petrus Levy
Ruy M.O. Pauletti
Dimas B. Ribeiro
Local Executive Committee
Jorge C. Costa
Henrique C. Gomes
Fernando R. Gonçalves
Alexandre B.F. Higuita
Paulo S.B. Nigro
Eduardo Simões
Cinthia Sousa
Marcelo R. Teixeira
Leonardo Barbosa Lago