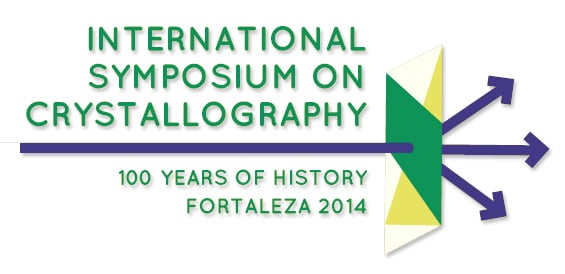 Site do evento
Comissão organizadora
Jose Marcos Sasaki
Adonay Rodrigues Loiola
Igor Frota Vasconcelos
José de Araújo Nogueira Neto
Marcelo Veras
Paulo de Tarso Cavalcante Freire
Você participou do Comitê Organizador desse evento?
Clique aqui.
Janeiro 2015 vol. 1 num. 3
International Symposium on Crystallography
Celebration of theInternational Year of Crystallography
In the period of12 to 15 October 2014 in Fortaleza/CE, during the Symposium,it will celebrated the 100 years of crystallography. The symposium will be thefirst scientific event on crystallography to be held in the Northeast of Braziland will bring together professionals and students working in the area ofmaterials characterization by X-ray, electrons and neutrons diffraction, aswell as all the major areas of knowledge that use diffraction techniques.
The theme of the symposium, 100 Years of crystallography, is due to the fact that the year 2014 waschosen by the International Unionof Crystallography - IUCr, as the InternationalYear of Crystallography (seepage http://www.iycr2014.org /). This choice is in commemoration of the100th anniversary of the awardingof the Nobel physics prizeto Max von Laue,in 1914, due to hiswork on x-ray diffraction in crystals. The experiment performed by two collaborators (W. Friedrichand P. Knipping) inthe crystal of copper sulfate,idealized by von Laue,opened the way for Sir William and Sir LaurenceBragg to determine the arrangement of atoms in crystals. In a short time, this acquiredknowledge revolutionized, besidessolid-state physics and chemistry, also microbiology with the discovery of DNA structure, the development of computers, new materialsand nowadays, chemicaldrugs for prolonging human life.
_
ORGANIZING COMMITTEE
JoseMarcos Sasaki (Coordenador)
Departamento de Física, UniversidadeFederal do Ceará (UFC)
AdonayRodrigues Loiola
Departamento de Química,Universidade Federal do Ceará (UFC)
IgorFrota Vasconcelos
Departamento de Metalurgia eCiência de Materiais, Universidade Federal do Ceará (UFC)
Joséde Araújo Nogueira Neto
Departamento de Geologia,Universidade Federal do Ceará (UFC)
MarceloVeras
Departamento da Ciência daComputação, Universidade Federal do Ceará (UFC)
MarcusAurélio Ribeiro Miranda
Departamento de Física,Universidade Federal do Ceará (UFC)
Paulode Tarso Cavalcante Freire
Departamento de Física,Universidade Federal do Ceará (UFC)
SCIENTIFIC COMMITTEE
AdailtonBertoluzzi
Departamentode Química, Universidade Federal de Santa Catarina (UFSC)
AdenilsonOliveira dos Santos
Centrode Ciências Sociais, Saúde e Tecnologia, Universidade Federal do Maranhão(UFMA)
Antoninho Valentini
Departamentode Química, Universidade Federal do Ceará (UFC)
Antônio Gomes deSouza Filho
Departamentode Física, Universidade Federal do Ceará (UFC)
Carlos OliveiraPaiva-Santos
Departamentode Física e Química, Universidade Estadual Paulista (UNESP)
Cássio Morillados Santos
Departamentode Física, Universidade Federal do Ceará (UFC)
Edson Massayuki Kakuno
UniversidadeFederal do Pampa (UNIPAMPA)
FabianoYokaichiya
Institutode Pesquisas Energéticas e Nucleares, Comissão Nacional de Energia Nuclear(IPEN)
Fábio Furlan Ferreira
Centrode Ciências Naturais e Humanas, Universidade Federal do ABC (UFABC)
Flávio Machadode Sousa Carvalho
Institutode Geociências, Universidade de São Paulo(USP)
Irineu Mazzaro
Departamentode Física, Universidade Federal do Paraná (UFPR)
João Cardoso deLima (UFSC)
Institutode Física, Universidade Federal de Santa Catarina
João MariaSoares (UERN)
Departamentode Física, Universidade Estadual do Rio Grande do Norte
José AlbinoOliveira de Aguiar
Departamentode Física, Universidade Federal de Pernambuco (UFPE)
José RicardoSabino
Departamentode Física, Universidade Federal de Goiás (UFG)
Lisandro PavieCardoso
Institutode Física Gleb Wataghin, Universidade Estadual de Campinas (UNICAMP)
LucasBleicher
Departamento de Bioquímica eImunologia, Universidade Federal de Minas Gerais (UFMG)
MarceloGonçalves Hönnicke
UniversidadeFederal da Integração Latino-Americana (UNILA)
Marcos TadeuD'Azeredo Orlando
Departamentode Física, Universidade Federal do Espírito Santo (UFES)
Mário ErnestoGiroldo Valério
Departamento de Física, Universidade Federal deSergipe (UFS)
Nizomarde Sousa Gonçalves
Instituto Federal de Educação, Ciência e Tecnologiado Ceará (IFCE)
RenatoFigueiredo Jardim
Instituto de Física, Universidade de SãoPaulo (USP)
RicardoEmilio F. Q. Nogueira
Departamento de EngenhariaMetalúrgica e de Materiais, Universidade Federal do Ceará (UFC)
Sergio LuizMorelhão
Institutode Física, Universidade de São Paulo (USP)
Sergio Michielonde Souza
Departamentode Física, Universidade Federal do Amazonas (UFAM)
Sonia LiciaBaldochi
Institutode Pesquisas Energéticas e Nucleares, Comissão Nacional de Energia Nuclear(IPEN)
Vera Lucia Mazzocchi
Institutode Pesquisas Energéticas e Nucleares, Comissão Nacional de Energia Nuclear(IPEN)
Tiago PinheiroBraga
Departamentode Química, Universidade Federal do Rio Grande do Norte (UFRN)